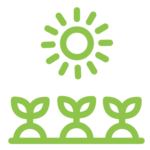 Vegetable Garden
Come play in the dirt! Come to where dirt is good, rich and offers sustenance. Find your favorites in a salad of veggies. It's a colorful mix of textures, shapes and sizes. A little something for everyone. Even if you don't like your vegetables (oh horrors!) you're sure to delight in this garden.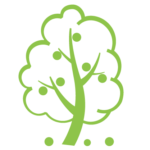 Orchard
What can we say… it's quite fruitful! From apples to nuts… we have it all. Take a walk down olive lane, venture through the citrus grove and don't forget to stop by guacamole alley. You can almost watch the fruit grow and smell it ripening.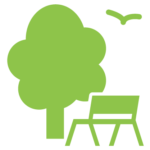 Under the Trees
Find your happy spot beneath our canopies of trees throughout the Retreat.  Nestle yourself among the mighty oaks with a gentle breeze at your back, washing your worries away.   Or enjoy a nice family picnic under the oaks protection.  The hardest part is figuring out which is the "best" happy spot … yes, you can have more than one!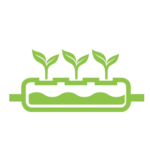 Hydroponic Fodder System
In our specialized fodder room we sprout 400lbs of barley each day. We use the sprouted barley to allow our guests to feed our animals. This system not only adds a nutritious element to the animal diets, it is environmentally friendly as it uses minimal water to produce the sprouts. We produce 2,800 pounds a sprouted barley a week using only 400 gallons of water.

"My family and I loved it! Our favorite was Burkina. She was so sweet and followed us around from her enclosure. Also, we met the owner Agnes. She was super nice and chatted with us about the animals."
"The children's nature retreat-is not just for children. it is a magical place where one is reminded how powerful nature is-the animals and the park like setting restore a sense of awe and wonder to all of its visitors-including the grown ups."
"This was a very fun getaway! Close to home yet far enough you feel out of the city. The grounds are maintained very well and all of the staff are very friendly l. I can't wait to go back."
Partners
Children's Nature Retreat Foundation would like to thank our sponsors and partners!