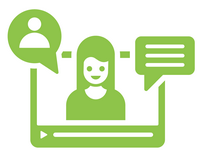 8-Week Virtual School Program
Retreat home, teachers will provide the students with hands-on projects directly in-tune with the weekly presentations. The students will symbolically adopt an animal and follow his/her life for 7 weeks thanks to weekly video updates. At the end of the program, students will bring their family to the sanctuary to meet the animals in person. This program is a perfect example of experiential learning.
The students and staff of the Retreat meet virtually once a week for 45 min. to an hour.

The first week starts with an overall presentation of the foundation and the viewing of an instrumental movie in the creation of the Retreat. The following weeks are filled with the discovery and learning of all the animals, feed and wildlife.

During the program, students have the ability to virtually adopt one animal.

Each week Agnes sends a video of them so the students can follow their life throughout the program. They have the choice between 10 animals!

The rest of the week, the teachers include different activities related to what they learned during the presentation. Some examples would be growing a lettuce, modeling clay project, drawing, painting, discovery of some African music etc….